Right off this room and through those French doors is our sunroom.
Last summer it received some love and attention. New windows, a bit of trimwork and some furniture. And, a first coat of paint in the white that our carpenter had just enough leftover from our exterior work. It wasn't quite finished.
There was also the matter of this brick bully wall in the room.  The fireplace is on the other side so I will forgive this wall but it steals precious space and demands all the attention.  It's very red and very bossy.
If you know me, you know I love to paint brick.  I don't touch the good stuff but uniform, bright red brick is not in the least bit safe around me.
And, so the primer went on this weekend.  It smelled up the entire house but was so worth the noxious fumes.
Now for color.  Originally, I was dead set on white.  Pure white, creamy white, all one color – trim and all. Then I remembered Ashley Whitaker's porch in House Beautiful awhile back.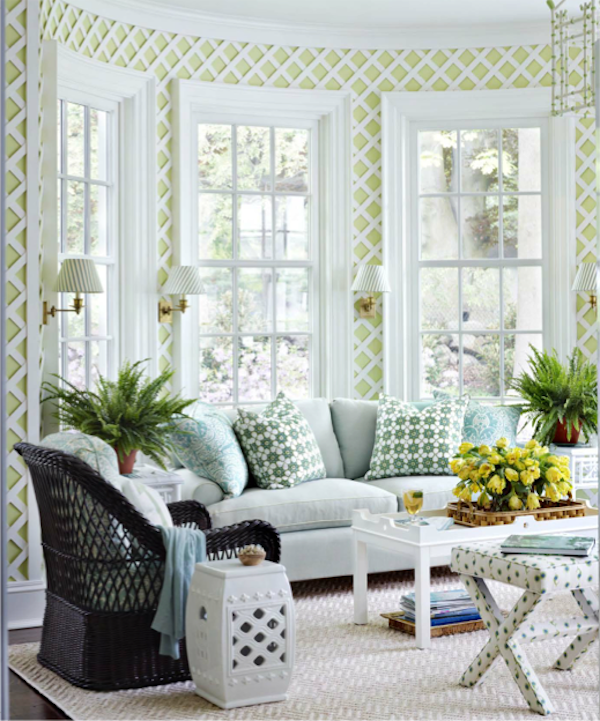 I know lattice is hot but that's not what drew me to the room.  It's that bright green that entices you to look out the windows and then on the flip side draws all that garden prettiness outside the windows back in.  I can't go quite this bold on the walls as I have to consider my living room and the sunroom floor which is staying a brick red.
But I can go green:  Benjamin Moore Hollingsworth Green.
It is a soft green with blue-gray undertones which is precisely what I need for it to make sense with my living room.  A couple of green throw pillows to connect the spaces wouldn't hurt either.
I have to sleep on where to stop and start the paint as it relates to the millwork.  I think I need to treat the paneling as one unit and go green.  
Speaking of green – our apple trees are planted and about to get a little bit of flair underneath!   
Back with the sunroom after in a couple of days.  Just pray for me that this green doesn't turn into a hospital green on me after I invest in the two gallons I need for the space.