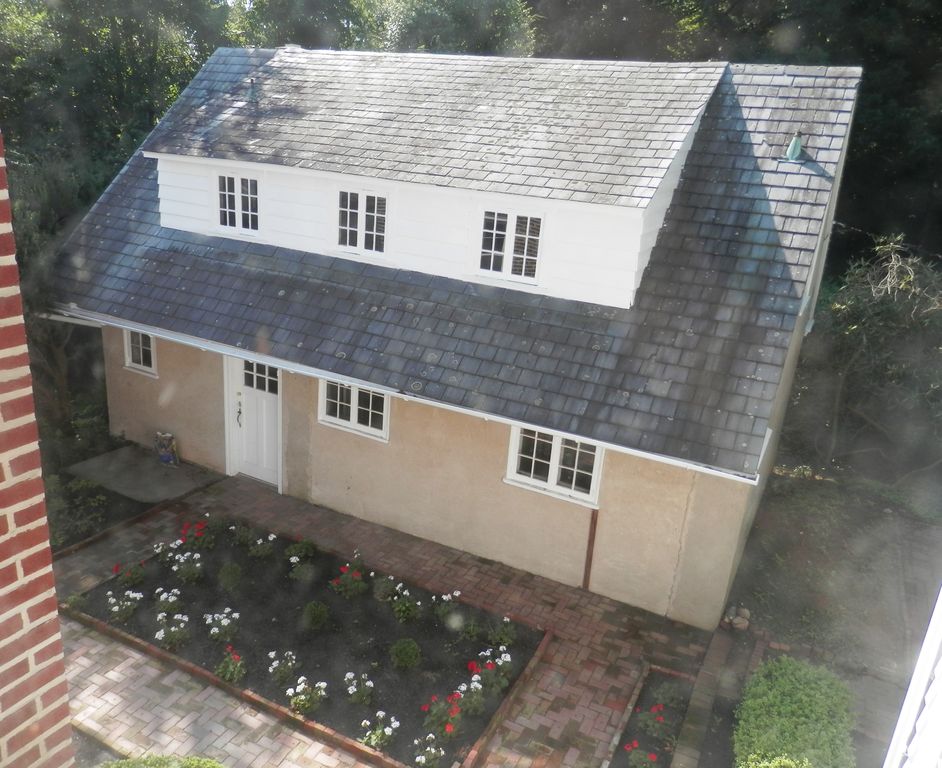 In our backyard is a laboratory. It is very close to the house and super convenient if you wish to use the Bunsen burner on a whim one evening. In fact, it is not too far from the back door as noted in the picture below.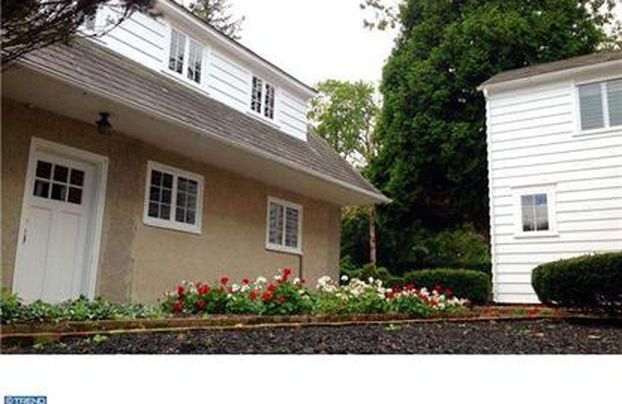 I will not take you into the lab quite yet as there is a bit of history that may be forgotten once you see the interior photos. First let me introduce you to G. Raymond Rettew. He has his own historical marker in town, and this was his lab many many years ago.
Granville Raymond Rettew was born in West Chester in 1903 and studied chemistry at the University of Delaware and Swarthmore College. Despite his lawyer father's desire for Rettew to follow in his footsteps, Rettew became a chemist. He did, however, try to appease his father by working in his office but not even a month later Rettew received a phone call from Hires. Swarthmore had recommended Rettew for the job and he was soon hired by the root beer manufacture where he proudly recalls introducing ph control (Mainline Today,"The Mushroom Man" by Mark E. Dixon).
Meanwhile Rettew marries into a mushroom family and with his father-in-law in the business the dinner table conversations were often centered upon the challenges the growers faced. Rettew and good friend Joseph Strode decide to go into the mushroom spawn business. He left Hires and he and Strode incorporated as the Chester County Mushroom Laboratories in 1929. They did well right from the get go despite starting a new business just months after the beginnings of The Great Depression.
The 1930s were a busy and prosperous time for Rettew and it is during this decade that he bought our house. In 1933 he moved in and begins experimenting in the "lab above the garage". It seems as if the lab may have been the garage initially, though at some point the lab/garage was reworked and possibly added onto as the stucco is noticeably different from one part to another.
The war was approaching and that necessitated a change to their approach to business. The first thing Rettew did was encourage the study of the nutritional value of mushrooms so they could be deemed an essential food. The second thing he did was to consider his hobbies and decide if he could contribute anything of value to the war effort. In 1941 Rettew read about penicillin and its potential at healing wounds. Rettew decided this was to be his focus.
Here is an excerpt from Rettew's own writing (A Quiet Man from West Chester by G. Raymond Rettew):
During the remaining part of 1942, I worked alone in my own laboratory, mostly at night, experimenting with the cultivation of the Fleming strain of Penicillium notatum, developing an improved culture medium, and proving the adaptability of the 40-ounce culture flask (a kind of shortnecked bottle with four flat sides), and the equipment of the Chester County Mushroom Laboratories. It was then that I started to develop the method for the recovery of penicillin from fermentation broth.
Raymond Rettew (on right) with Dr. Desmond Biel, holding sterile culture with seed spores of Penicillin Notatum, circa 1945. (from ExplorePAHistory.com)
By 1943 Rettew figures out how to stabilize the penicillin cultures that Sir Alexander Fleming discovered and sends his first penicillin to the United States Government with 90% of it going to the Armed Forces. Fleming and Rettew became friendly over the years and it is rumored Fleming had dinner in our dining room. Rettew partnered with Wyeth in town and eventually moves into a sizable lab not too far from our house which is where the historical marker sits today. For a long time the historical marker sat at the edge of our property.
Rettew never goes back into mushrooms and continues working for Wyeth producing penicillin. He died in 1973 but before that the family sold the house to a pediatrician in town to whom they entrusted the preservation of this home lab.
We bought the house from the pediatrician's daughters who listed the house after their parents passed away. The daughters left paperwork from the historical marker dedication which does a wonderful job describing Rettew's work and contributions to World War II. We also get bits and pieces from the neighbors. In fact, one day a neighbor explained that his grandfather was visiting. He recognized the lab – he had been inside that lab working on several occasions. He then went onto tell the story that the FBI sat outside the house many evenings as he (a Dupont scientist), other local scientists and Rettew worked on chemical weapons for the U.S. Government.
The interior pictures are fascinating but will make you question our sanity. Fortunately the lab is not an immediate project as the house is taking priority, so we have time to mull over how to best use the space. That is a hot topic in our house. One part of the family envisions a ping pong table and dart boards, another faction thinks it would best function as pool house for a pool that would need to be installed and yet another faction believes it is charming as is and would be even more charming with lots of rakes, shovels and lawn equipment inside. More to come!