The neighbors may just pitch in to buy us shades but until then we continue to live in this house without a single thing on the windows.
So, here's a lousy picture of a window in our bedroom.  As you can probably see there are 5 houses and an entire hospital that can see into this room.  My window treatment situation may qualify as an emergency to some most.
The windows cannot support panels so I will likely inside mount shades.
Option A.
Roman Shades.  This is my favorite kind of window treatment, especially the relaxed style, and may end up being our best option.  I love the soft look but also know we will lose light because Romans look best when they are not pulled tightly and left to fall like below:
Option B.
The cornice/shade combination.
The cornice would likely only be for the window in our room pictured above as the bed wall windows are too low.  I do like the bamboo shades and there are so many different versions to choose from at great price points.
Option C.
Plantation Shutters.  Plantation Shutters are low-maintenance but often need softening with a fabric layer.  If this were the beach, I wouldn't hesitate to use them.
A pretty plantation shutter look with a panel on each side.  This would be perfect on our bed wall except for our dormers.  No room to hang panels – sigh.
Here is one of the pesky dormers on our bed wall.
Option D.
Wood Blinds
Wood Blinds are a good option as well.  We had these in our last bedroom but I think they look better with a fabric layer in a bedroom.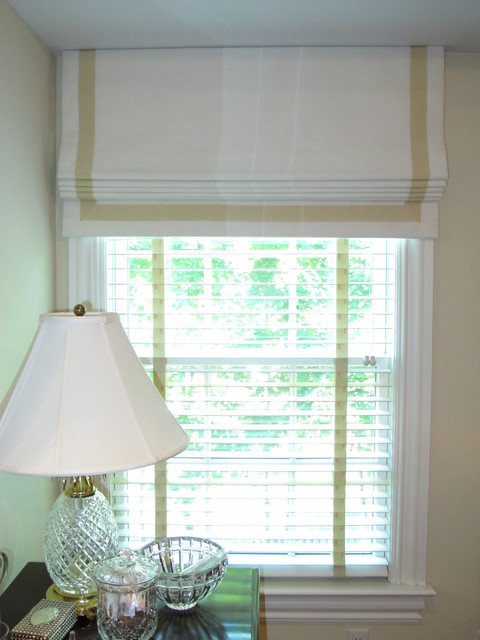 Any preferences?