Philip M. Sharples (who often went by P.M.) was a fourth-generation Pennsylvanian and from an influential Quaker family in Chester County. Not surprising that one of Sharples predecessors was the first mayor of our town.  In 1881 Sharples established the Sharples Separator Works Company with plants in Pennsylvania, California, Illinois, Canada and Germany.  At its peak, Sharples Separator Works was the largest industrial company in our town, employing 600 workers and turning out an average of 3700 separators a year (West Chester University Archives).  He was clearly a big deal.
The company did exceedingly well for over 30 years and Sharples became a rich man.  In 1907, he finished construction on Greystone Hall, an incredible house that sits just north of town designed by architect Charles Barton Keene.  Coincidentally, just after looking at the Sharples' city house, I attended a lecture at Greystone Hall, not initially realizing that this was a Sharples' house as well.  I am not sure P.M. lived in or owned the city house though – it was possibly a relative. There are a lot of Philip Sharples in the family tree!  I need to look into that further.  In any case, by 1907 P.M. Sharples was living quite grandly at Greystone Hall with his wife and three children.
The photos below are from Architectural Record,1909 via Beyond the Gilded Age.
The floor plan. Unfortunately even when you enlarge it, you lose the detail but at least you can appreciate how massive this house is.  So so SO many rooms.
So much of the original interior detailing has been preserved.  Of course, there were only a limited number of rooms open to the public but the dining room appears to look nearly identical down to the paint color.  It is the only room that I saw where the wood paneling and trim were painted.  Of course, that was my favorite!
I'll take the Bishop House, please!  I am not sure if the three houses pictured here are still on Greystone's property or have been sold off with their tracts of land over the years.
And here's Greystone as it looks today. . .the North Front.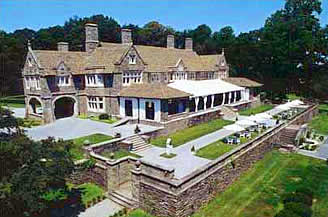 The South Front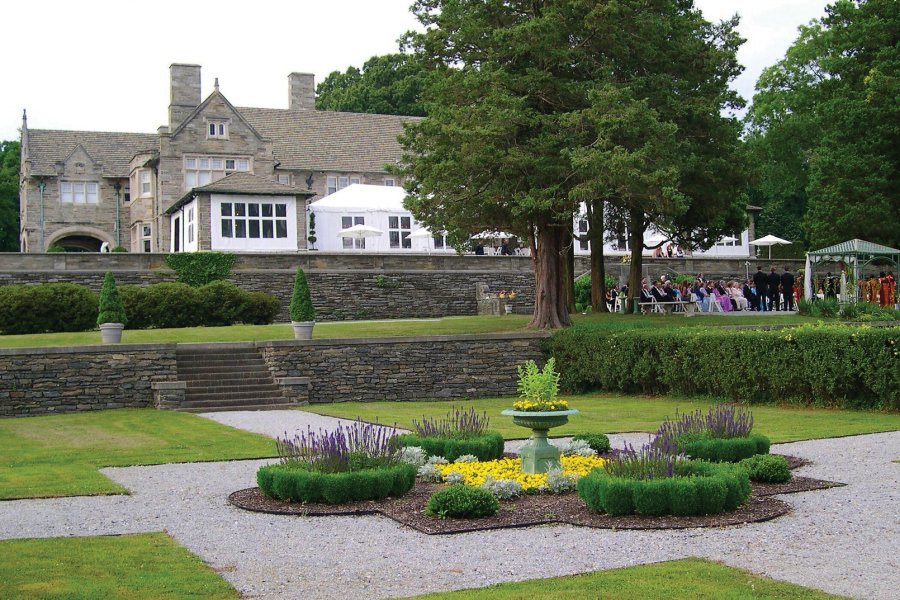 This is the best I could glean from the Internet on today's Greystone.  It functions as both a private residence and a wedding/banquet venue.  The first floor is open for events and is very well-preserved.
Here are a couple of pictures I took the evening of the lecture.
The property is expansive and the approach is right out of the English countryside storybooks.
 These cabinets in the kitchen/likely former butler's pantry are incredible.  The ceilings are easily 12-feet-high.
P.M. and his wife moved in and a mere four years later his wife passed away leaving Sharples and his three children alone. He later remarried and had 3 more children.  His second wife and 6 children lived at Greystone until 1935.
Sharples fell victim to the Depression and ended up losing Greystone to foreclosure in the early years of World War II. Greystone was pledged as collateral on loans and about half of the original nearly 1000 acres of land were sold off in small parcels starting in the late 1930s.  Sharples relocated his family to Pasadena where he lived for 9 years before passing away in 1944 (www.greystonehall.com).
You can read more about the history of Greystone in detail and the family who has owned the house since 1942 here.  The house sits on an incredible 500 acres. Still.
If you are local, check the Chester County Community Night School bulletin for lectures at Greystone Hall or the Chester County Historical Society as well.