One of our children must spend every penny given to him.  So when he walked with a friend to the Grower's Market, I was curious to know how he would spend every one of those pennies in his pocket.  He did so successfully on strawberries.  Pounds of strawberries, in fact.
I met Deb of Smitten Kitchen at my high school reunion a couple of years ago (was a bit starstruck!) and as much as I loved her blog, I hadn't tried many of her recipes.  Really I just enjoyed her beautiful pictures and clever commentary.  Lately though I have been dipping into more and more of her recipes and clearly she knows what she's doing.  This Strawberry Summer Cake  will be your go-to for picnics, summer barbecues and neighbor gifts – trust me.  And, Wendy, had I made it to the Devon Horse Show this would have come along . . .
This cake provides the perfect segue into my next and latest find – Dishfunctional.  It's a bit difficult to tell but the pie plate above is sitting on a silver (plate) platter that is one of many purchases from Alfred at Dishfunctional.  He runs an Ebay business out of a 17,000 sq ft warehouse space in my town and occasionally opens up to the public. It is a gold mine.
This is the only picture I took but trust me the place is enormous and filled to the brim with hidden treasures.  I decided to concentrate my efforts on silver plate.  I wanted serving pieces that weren't too precious.  Here is a bit of my loot before the big soak.
I line my sink with tin foil and dump in a box of baking soda with boiling water to great effect.  This works far better with sterling silver but the silver plate did well, too.
Much better!
I also took home some Waterford crystal wine glasses and double old-fashioned glasses.  These were new in a very dusty box but in mint condition and for a fraction of what I would have paid new.
And, I leave you with some garden pictures. A short-lived but pretty burst of candytuft (Iberis) in my spring garden.  This is a quick spreader and doesn't need much love but the flowers don't last for long which is unfortunate as they are so pretty.
Some hibiscus for the pots – freshly planted.
The window boxes are filled with Hostas, Begonias and Caladium.
The Nepeta (Walkers Low) and Geum (Mango Lassi) has started to spill over the edging which is fine with me.
A pot just planted waiting to fill in with petunias, a blue passionflower vine and some helichrysum (licorice plant).
We finally had glass cut for our urn table.  Much better!
I would love to do something like the below but probably not enough air flow.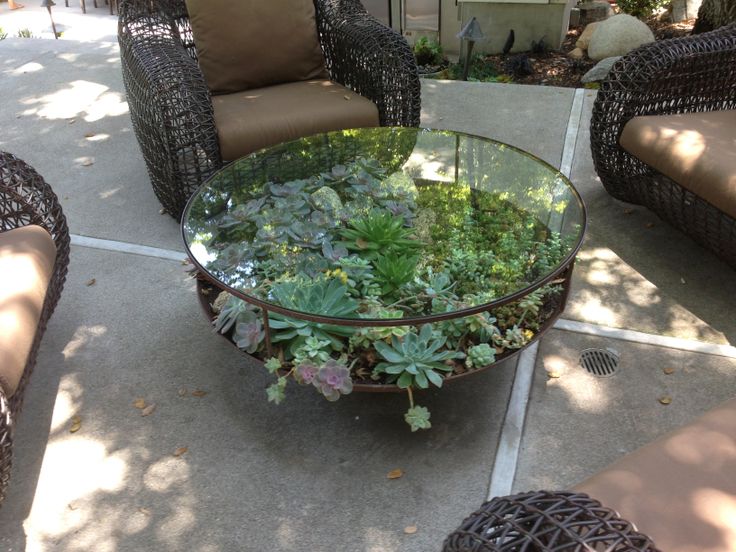 via www.feelitcool.com